Women two pieces suits is also a kind of wholesale women outfits.  Two pieces suits, there are many styles, including casual, formal, sexy, it can be a top with pants,  also can be a top with dress.
Fashion two pieces suits, a clothing price can buy two suitable shape clothing, also save their own time to go with the most important is the two pieces fashion ability can not be underestimated.
Here are three different kinds of two pieces suits, they each have their own different and features.
Fahion sleeveless design, unique floral print design, it look so fashionable and comfortable.
This suit will look more casual, simple short blouse with short pants, suitable for the usual time to wear, you can wear it for shopping.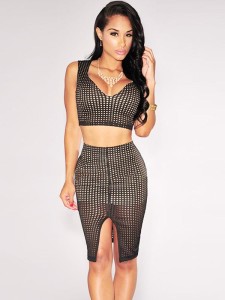 Compared to the previous two suits, its biggest difference is that sexy. Crop top with slit dress, for you to bring a different fashion sense,  it can show your curve very well.
Personally, i prefer the second suit of styles, because i usually like to wear simple casual clothes. Do not know what kind of style you would like to do? you can choose what you like.