Jeans,  after the film and television publicity and celebrity effect, developed into a daily life wear clothing. The 1970s has swept the world, has now become a global stereotypes clothing. Style has been developed to denim jacket, jeans, denim shirt, denim vest, jean dress, denim children's clothing and other styles.
Jeans with its rugged, casual rugged and other characteristics by the people love, its style and decoration is accompanied by the fashion cycle and rhythm, continuous interpretation and change.
Jean coat is a kind of wholesale women outfits.  Fashion jean coat  look very fashionable and pretty, they have a variety of styles, such as, long- style,short -style. Some of the denim clothing is not decorated, some jeans will be embroidered or stitching and other decoration.
Then i will vintroduce three different denim jackets, the first style is long coat with two pockets. The second style is short coat, There are embroidered patterns on the clothes. The last style have a little different, it look lose and casual, long sleeve with many cartoon rabbit patterns.
Long Sleeve Pocket Fashion Jeans Coat
Ladies Short Jean Patch Jacket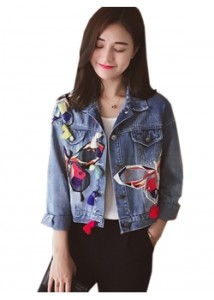 Cartoon Animals Blue Fashion Long Coat